Vanessa Hudgens: Black Lace Dress
June 26,2012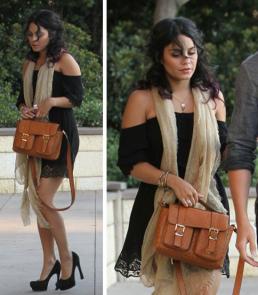 It's no news that Vanessa Hudgens has a great sense of fashion, but this 23 year-old startlet knocked it out of the park with this Black Lace look. Wearing a
Heartloom "Marion Dress"
,
Donni Charm Donni Glam Scarf,
Chan Luu Clear Leather Wrap Bracelet
,
YSL Suede Pumps
and
Michael Kors
handbag, Vanessa looked both classy and chic while heading to a party with beau Austin Butler. What we love about this outfit is how the accessories really make a difference in dressing it up. The scarf and purse add color to the outfit while making the look a little more fun, while the simple black pumps make keep it classy, elegant and perfect for a night out.
Comments(0)